As I transition from my school e-mail account to my "adult" e-mail (read: a regular gmail account), I've noticed a few differences. One of them is that normal gmail accounts have ads. I don't like them, because when they change, out of the corner of my eye it looks like something has popped up in my inbox, and then I'm disappointed when it isn't new mail, because I like getting e-mails.
I bet you're really glad you know all that now.
But,
there's a point, and the point is that these ads actually proved useful to me the other day. I know! Very exciting. One of the ads was for Karen Millen's US website. Karen Millen is a UK-based company I first became aware of in the summer of 2009, when I spent a month at a program in Oxford. The dresses in the store were beautiful, with bright jewel tones all over the place, just brightening up my day every time I walked past the store, even if it was raining (which it did, a lot.). I ended up leaving the country with a beautiful purple dress that I sometimes take out just to admire.
Thusly reminded by the wiles of the internet, I checked out the website. On my most recent click, I was greeted by this image.
Click through!
DO YOU NOT DIE FOR ALL THE COLORS? Seriously, how chic is that bag, and that dress is so effortlessly cool I don't know what to do with myself. And who does not like like to be greeted with news of a sale?
That skirt
is on sale for $45! I know! Save that sucker up for next fall!
I love the clean lines of these dresses, it makes them so classic. I can just envision myself standing by a pool somewhere in
the first one
, wearing a large hat and carrying a perfect clutch. And, as we all know,
color blocking
is what it's all about this spring (really, though, it's what my life is about). Really, there's just a bevy of beautiful things to admire and contemplate purchasing. Head on over there to check it out! I know I'll be clicking the hours away as I look for endless ways to procrastinate :)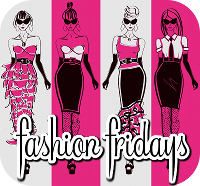 Fashion Fridays looks like it's going to be sticking around, so thanks to Kori at Blonde Episodes for facilitating it!
This post was not sponsored by Karen Millen or anyone affiliated with the company. I just really like their stuff.